Visar samtliga inlägg taggade med trove.
As the coming of Friday, the next Trove livestream is available on the Trion Worlds Twitch channel soon. In this livestream, the dev team will show off a bit more of the upcoming Shadow Hydrakken boss in the Shadow Tower. Players can also have a sneak peek at the subclass system as well as get epic giveaways.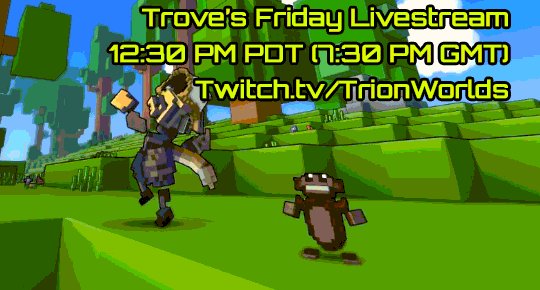 Plus, the adorable Cotton Candy ally will be available on Xbox One or PS4 as usual.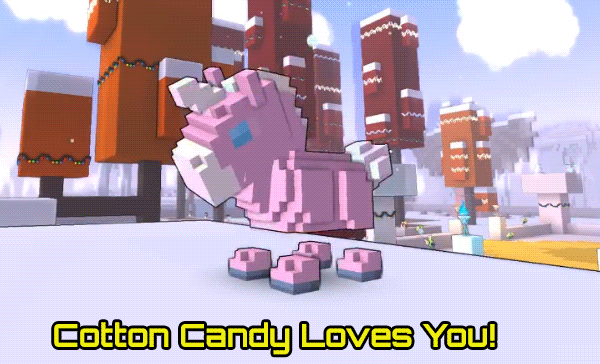 Publicerat klockan
11:06, den 17 juni 2017
Sitting at five million players on PC and Mac, free-to-play voxel-based adventure MMO Trove is available on PlayStation 4 and Xbox One. You might want to try free-to-play MMO, Trove, which is out now.
Trove is a sandbox game from Trion Worlds, dug from the same dirt as Minecraft, but built around a free-to-play MMO setup. Following the beta, the console versions have accrued more than a million players each, and the numbers keep growing.
It is striking visually. With its myriad of sharply contrasting coloured blocks, you can tell immediately that it's a whole universe away from Minecraft's earthy tones. After a brief opening cutscene the game opens up into a huge hub area in which you will find yourself every time you log in.
There are 14 different character classes to choose from and they cover almost all forms of combat. Picking one uses a class unlock token, so you may want to trial a few first to find a fighting style that suits you, although you can get more unlock tokens later in the game, so don't worry too much about that.
Being an MMO, the hub and the worlds you'll visit are populated by other players, and for the most part they're mainly just hitting dungeons. Dungeons are relatively simple and consist of a series of staircases, platforms, and rooms filled with mobs, culminating in a boss fight which will reward you with a large chest full of loot if you defeat it. There are some places that offer respite from all of the action; small plots of land called Cornerstones that act like small bases. These Cornerstones are blank canvases that can be built on to create a home away from home, somewhere to drop off your loot and upgrade weapons and armour.
The mining, building, and crafting doesn't stop there, as you're free to create just about anything if you're willing to put in the time. As we found during our repeated visits however, it's the lure of irresistible loot that will keep you hooked. Whether playing as a lone wolf, teaming up with friends, or joining a Club (Trove's guild system), the promise of better armour, weapons, or even a funny-looking hat will keep you dipping into the game.
You might want to try free-to-play MMO, Trove, which is out now. If you are, we're going to make your journey just a little bit sweeter with our cheap Trove items! If you want to buy Trove Flux, U4GM.COM is always your best choice.
Publicerat klockan
11:48, den 6 maj 2017
Developed by Trion Worlds, Trove has already captured the interest of over five million console players during its open beta.
The Trove game is now live on PS4 and Xbox One as a free-to-play MMO with 14 classes to play around with, and even though it's heavily aimed at kids, it's worth messing around with. This free-to-play multiplayer action-adventure game brings gamers together in imaginative worlds that they can shape how they like.
You get Trove from Trion Worlds, a free to play MMO that has just exited beta on Xbox One. Exploring and building together with large groups adds a whole new dimension to the familiar block-based gameplay that Minecraft fans love.
For the player-created content, you'll find swords, staves, helmets, mounts, dragons, and more. Club Worlds are your very own corner of the multiverse where you can invite your friends to join you in building wonders. The only limit is your imagination — and how many blocks you can collect. If you don't want to build, Trove lets you choose a class and battle enemies in the open and in dungeons. You'll also find PvP modes in the form of Team Deathmatch and Capture the Flag, and you can make your own PvP arenas in your Club World.
Basically everything in Trove needs Flux and there are two ways to generate it – deconstructing items with the Loot Collector or opening boxes. However players are able to trade Trove Flux between each other and due to that Flux has become the unofficial currency in Trove.
Being a game largely based around combat and creativity, you will find yourself spending a lot of money at sellers in order to get new blocks or weapons so that you can progress in the game. But getting flux is really difficult in the game and during the beginning stages you are pretty much on your own. But if you are tiered of grinding for hours only to get a measly reward, get down to a professional seller like U4GM and get heaps of cheap Trove Flux for an extremely cheap price and enjoy being one of the richest players on the server.
Publicerat klockan
11:42, den 6 maj 2017
Since officially launched two month ago for PlayStation 4 and Xbox One, Trove have accrued more than a million players each, and the numbers keep growing. To improve players' experience with their games, Trion World plans to upgrade a way to facilitate all kinds of updates, Glygh, to make it more sleek and streamlined when gamers playing Trove.
As many players reflect, Glyph was gobbling up the memory usage and CPU performance. In response to this issue, the developing team decided to free up more of computer's resources so that you can focus on crushing that 20-man raid, explore strange lands or bask in the glory of your fantastic creations.
In addition to this, the browser functionality is set to be added into Glyph while it will cause a heavier load to systems. They think it will run much lighter without the browser not only because the prior version used around 200MB of memory in the background, while this new version runs with less than 50MB. Anyway, the developers are now focusing on letting people play with less "stuff" hanging around in the background while a game is running.
Finally, the enhancing process will never stop to make our players play Trove happier. Grab your friends, hone your blades, and set off for adventure in the ultimate voxel MMO. Whether hunting treasure in far-off lands or building realms of your own, it's never been this good to be square!
With the Trove has grown in popularity, so too has the value of its in-game currency. Do you want to make Trove Flux quicker for your game account? If you do, you can visit U4GM to have more guides and methods about this. Also, U4GM is the professional Cheap Trove Flux sales store, you are free to purchase from u4gm if you need. We believe that you can receive the best service!
View the entire content...
Publicerat klockan
11:14, den 6 maj 2017